Casa ONA
Transformación de una oficina en Vivienda-Estudio en Llíria.
Office building turned into housing.
Llíria, Valencia.
2020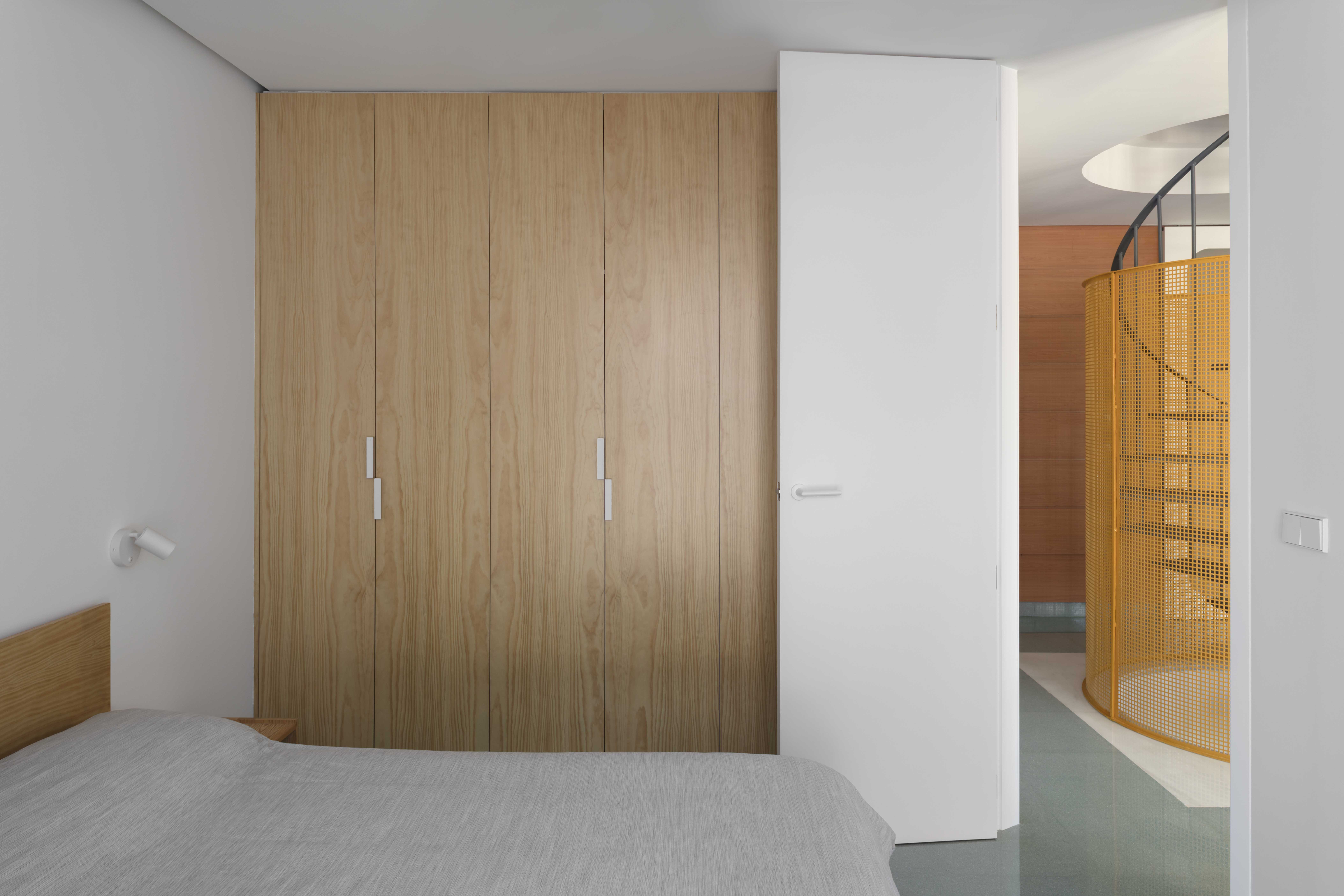 Fase:
Construido 2020 | Built 2020

Localización:
Llíria

El proyecto nace para dar respuesta a un nuevo uso en un edificio existente de los años 90 concebido como despacho de arquitectura.

Este edificio se caracterizaba por unos espacios conectados y el uso de materiales nobles; hormigón, metal, terrazo y elementos divisorios de vidrio, además del uso del color en los paramentos.

Tras más de 25 años funcionando como despachos, se plantea mantener una parte como estudio de arquitectura cediendo el resto del espacio para vivienda. Para llevar a cabo esta transformación se plantea, con los mínimos elementos posibles, transformar por completo el carácter del espacio en un hogar, añadir una capa más del tiempo respetando las reglas de juego del edificio existente y permitiendo a su vez la posibilidad de añadir nuevas capas, habitaciones o usos distintos en el futuro.

El espacio junto al acceso, caracterizado por su doble altura y atravesado por la escalera de un tramo, se destina al estudio, mientras que la parte recayente a la fachada opuesta se destina a vivienda.

Las particiones de vidrio translúcido que antes dividían despachos se desmontan para ensamblarlos de nuevo transformándolos en puertas correderas que separan la vivienda del despacho. Se añaden unos marcos que incorporan la geometría del cuadrado y el círculo, presente como un leitmotiv en distintos elementos de la vivienda.

La escalera de caracol, antes escondida detrás de unos cerramientos opacos, se desnuda convirtiéndose en el corazón de la vivienda.

Para materializar la vivienda se distinguen dos tipos de elementos, unos que forman parte de una capa fija, que equipa y permanece invariable y otros elementos móviles y más livianos que dan privacidad o transforman los espacios. En la primera de éstas se utiliza de forma clara y sobria el hormigón y madera de abedul, en contraste con la ligereza y el color del mobiliario, las cortinas y rejas.


Casa Ona is the transformation of an existing building from the 90s conceived as an architecture office into mixed-use; housing and office.

The existing building was characterized by open spaces and the use of noble materials such as concrete, metal, terrazzo and glass, in addition to colored surfaces.

After more than 25 years functioning as an office this project starts from the proposal of maintaining an important part as an Architecture Office while dedicating the rest of the space to the house. To carry out this transformation a very few new elements are introduced. The renovation is conceived from enhancing the existing while adding one layer of time; respecting the rules of the existing building and allowing it to perhaps add new layers, rooms or uses on the future.

The space connected to the access of the building, characterized by its glazed double height and its staircase is dedicated to the office, while the space facing the opposite façade is dedicated to the house.

The translucent glass partitions that used to divide offices are disassembled and reassembled into sliding doors that separate the house from the office. White lacquered frames with rounded geometry are added in line with different elements of the house.

The previous walls that hid the spiral staircase are removed to enhance the stair that now becomes the heart of the house.

In the renovation of the building two types of elements are distinguished. Concrete and birch wood are used on the elements that belong to a fixed layer, the one that gives service to the house and will remain unchanged in contrast to mobile or lighter elements where color is used, like in the furniture, curtains and bars.


Estado previo, demoliciones y división del espacio vivienda- oficina
Previous state, demolitions and house and office division

Estado previo | Previous state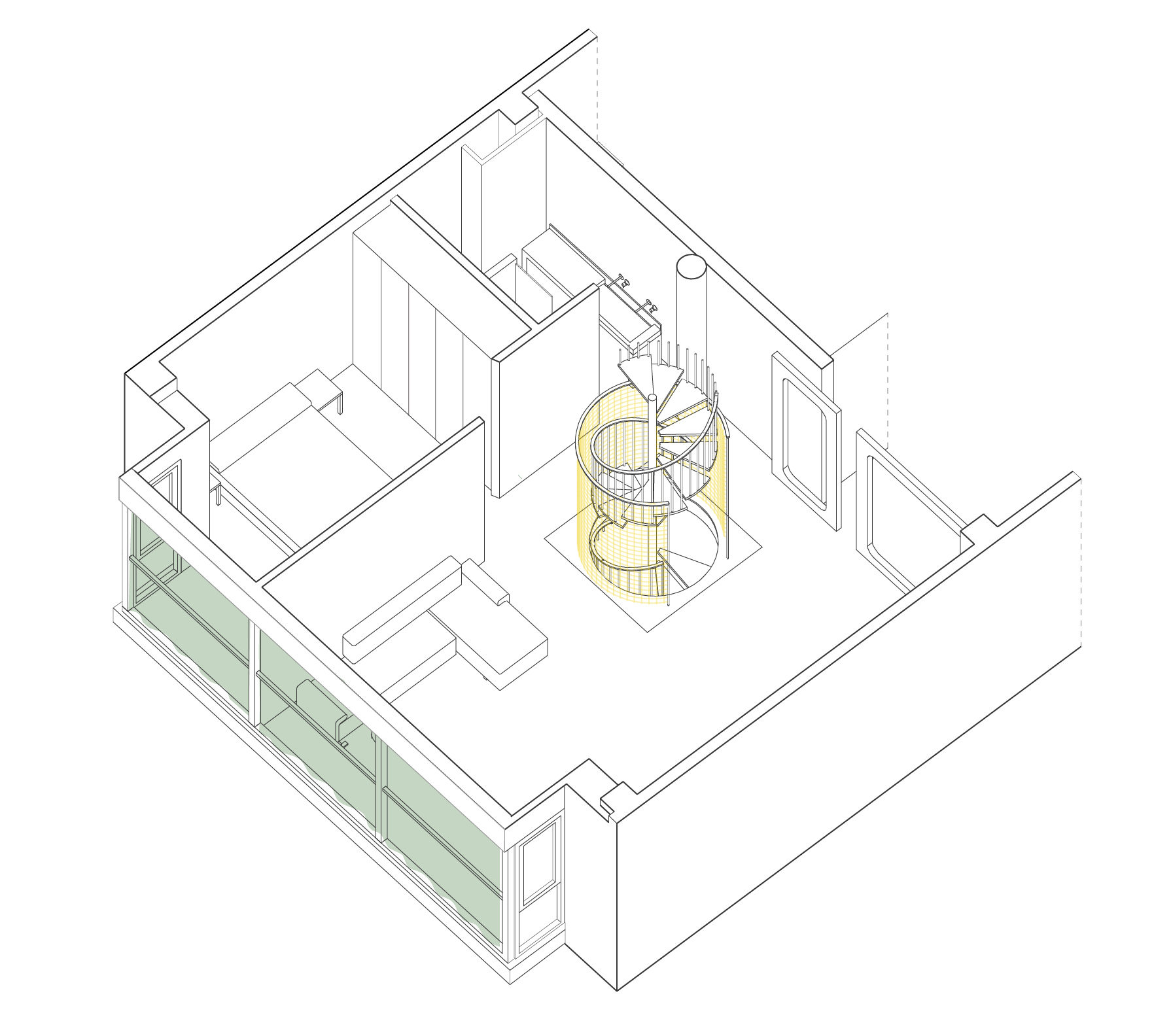 Reforma del espacio dedicado a la vivienda en planta primera y segunda
House Renovation in first and second floor